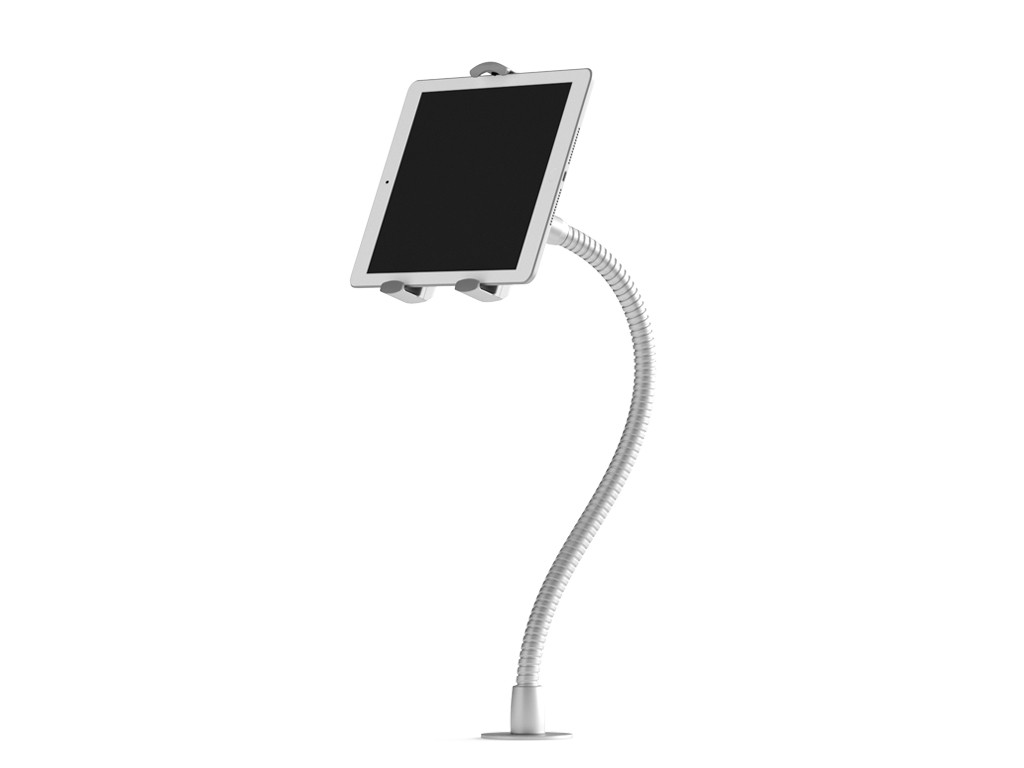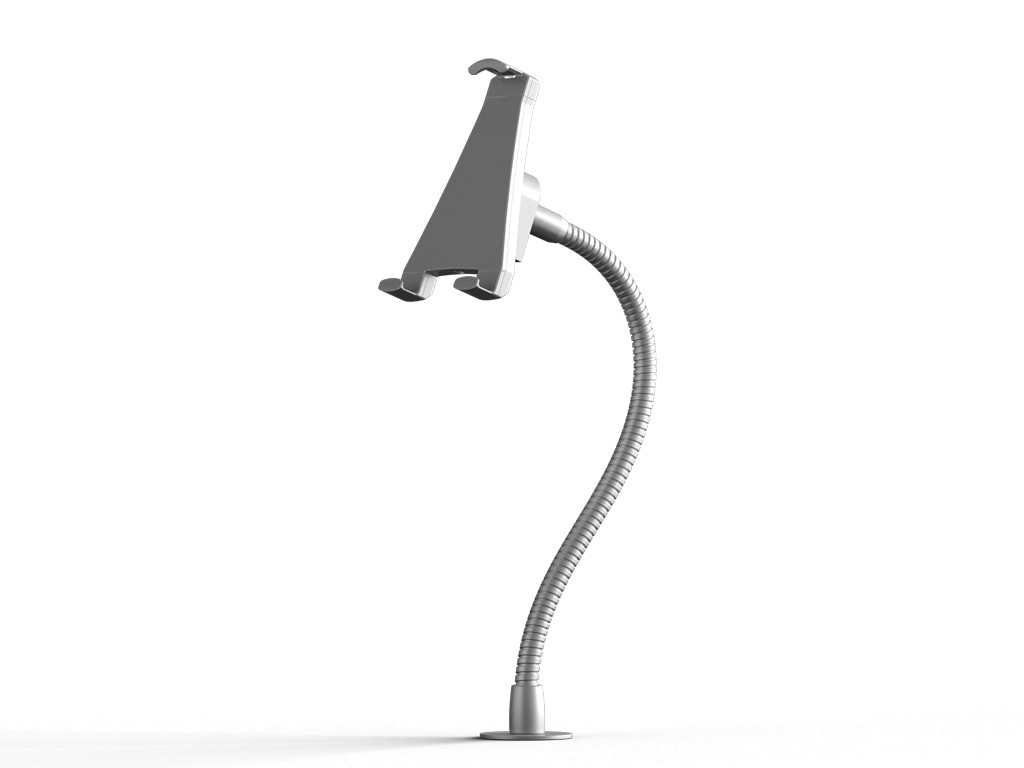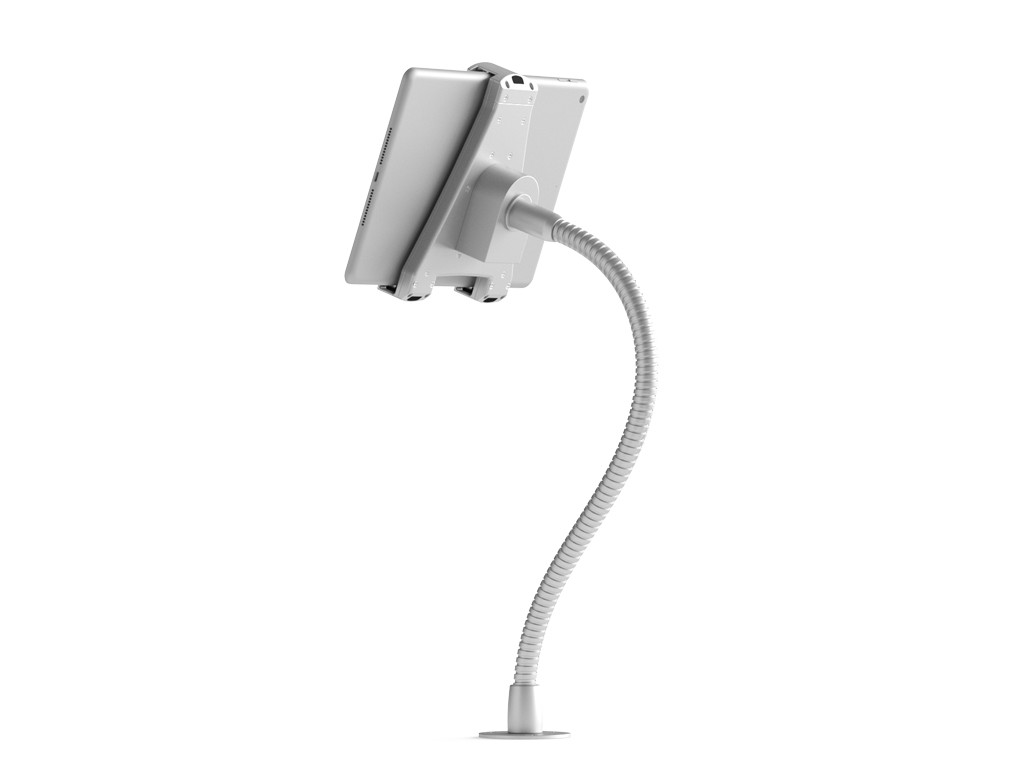 xMount@Desk allround - iPad table and counter mount with goosneck.
Order number:

xm-desk-09-iPad-lang-uni_014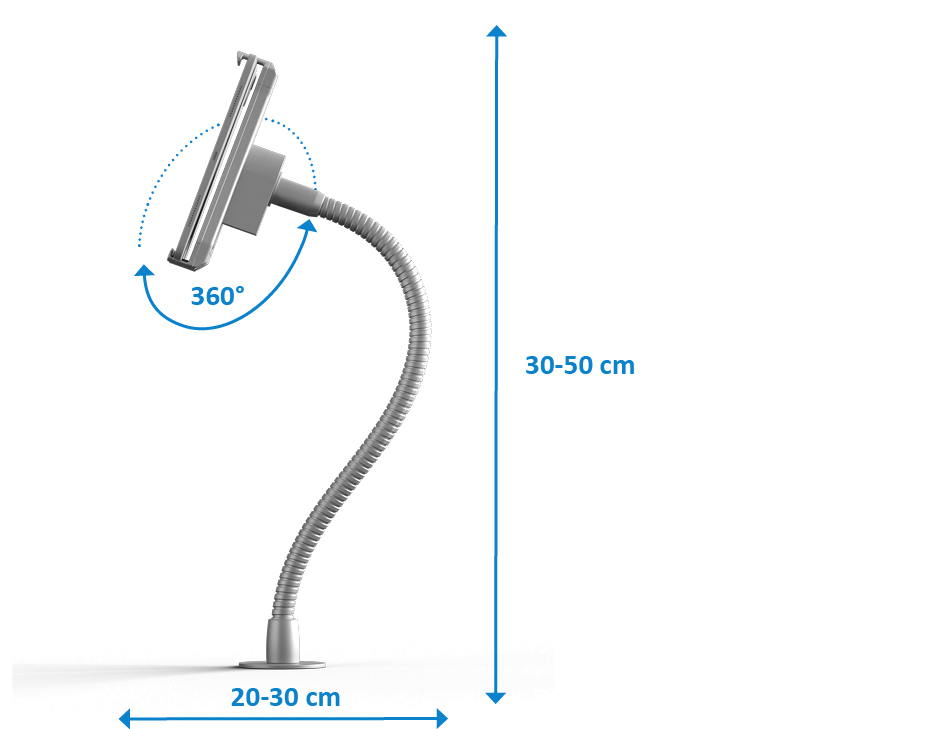 Fits iPad and other tablet models with 7.9" to 12.9" displays.
iPad mini 1-6 (2012-2021)
iPad Air 1-5 (2013-2022)
iPad 9,7" (2015-2018)
iPad Pro 10,5" (2017)
iPad 10,2" (2019-2021)
iPad Pro 11" (2018-2022)
iPad Pro 12,9" (2018-2022)
xMount@Desk allround - iPad table and counter mount with goosneck.
The iPad table mount with integrated charging function not only securely but also comfortably attaches your iPad to any table or sales counter. With maximum flexibility, the iPad can be positioned in any conceivable position, and super flexible with the swan neck. There is no position that the iPad cannot hold, promised...
Our xMount@Desk Allround consists of the xMount Spring Base and the xMount Swan Neck, which securely and comfortably holds your device with or without a cover where you need it.
The xMount Spring Base - that's what we call the base in which the iPad is securely held and protected - is milled from aluminum, sandblasted, and high-quality anodized. It ensures passive ventilation and does not affect WLAN or Bluetooth. All buttons and interfaces are always freely accessible to the user. The spring tension has a force of 2 kg and always securely holds the iPad in position. Inserts are installed within the stops so that the iPad cannot be damaged by the aluminum. If you use your iPad with a cover, these bumpers can be removed at any time. The extension can hold tablets from 140 mm to 300 mm in width or height and securely hold them.
The xMount@Desk allround iPad table and counter mount is firmly screwed to the counter, with the foot visible on the counter or invisible via threaded screws directly into the swan neck. This swan neck has been specially developed for this mount so that it is not too rigid but not too soft to hold the iPad securely but also allows for comfortable adjustment. Within this swan neck, the iPad charging cable is routed and is therefore invisible. The iPad itself can be rotated 360° at any time.
xMount iPad Spring Base // Features and benefits:
Made of high-quality aluminum
Suitable for all iPads and other tablets from 7.9" to 12.9"
Can be used with or without a cover
All buttons and interfaces are easily accessible
The integrated passive ventilation prevents overheating.
xMount iPad Table Stand // Features and benefits:
iPad holder can be rotated continuously by 120°
Available in white and aluminum colors
Double theft protection of the stand
Height 130 cm, width 30 cm, depth 30 cm, weight 10 kg.